More information about accelerated silicosis and further detail about the Government's response.
WorkSafe, the Ministry of Health and ACC have been working together since last year on a new health assessment process to support the delivery of consistent prevention, assessment and treatment services across the country for engineered stone workers. The process starts with a health check appointment with a General Practitioner (GP).
Each agency has a role to play in the prevention, identification, diagnosis, and care process.
WorkSafe
All businesses working with engineered stone must manage the risks in their workplace and ensure effective controls are in place to protect workers.
In 2019 WorkSafe visited 113 businesses known to be working with engineered stone to ensure the risks in the workplace are being effectively managed and effective controls are in place to protect workers. A total of 118 notices were issued to 62 businesses.
Based on our data from last year's inspections and using regional boundaries, in the upper North Island (including Auckland), there are 58 workplaces and 233 workers, central North Island 22 workplaces and 118 workers, lower North Island 13 workplaces and 64 workers, South Island 20 workplaces and 115 workers. [Note, these are workers who work with engineered stone rather than the total number of people in the business.]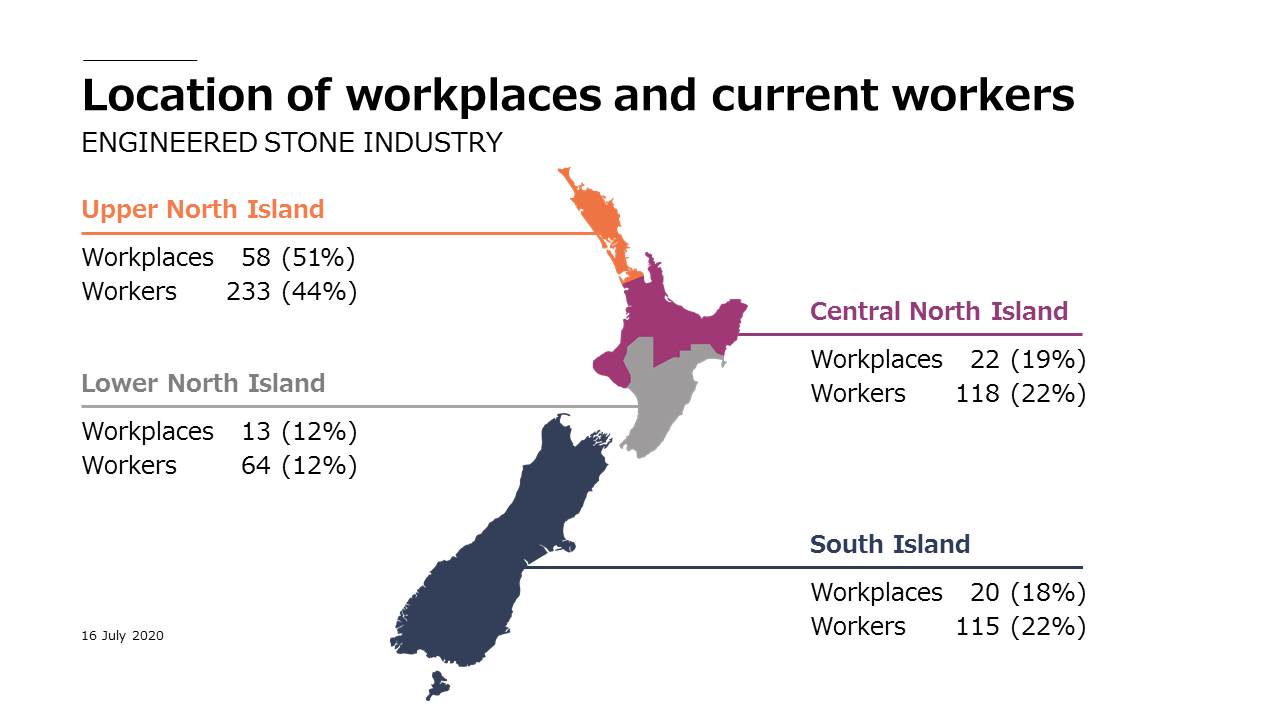 As exposure to respirable crystalline silica (RCS) is an emerging health issue, businesses are to be re-visited from September 2020 to check risk management and controls processes, and to ask workers to have a health check. WorkSafe has extensive guidance on its website and some of the guidance has been translated into eight languages.
Ministry of Health
Accelerated silicosis is a type of lung disease which may develop after a worker has been exposed to large amounts of silica dust. There is now a process for medical professionals to identify and assess people who may be at risk of the disease. For more information see the accelerated silicosis page on the Ministry's website(external link).
ACC
Work-related accelerated silicosis can be covered by an ACC claim. If you are diagnosed by a medical practitioner, and your claim is accepted, you will receive support. For more information see the accelerated silicosis page on the ACC's website(external link).