A 32-year-old tree faller with 15 years' chainsaw experience suffered lacerations to the face when his chainsaw kicked back.
Circumstances
While he was cutting blackberry undergrowth to clear a path to a tree, the tip of the rotating chain struck a dry limb that was hidden in the undergrowth. The obstructions caused the chainsaw to kickback and strike the operator in the face.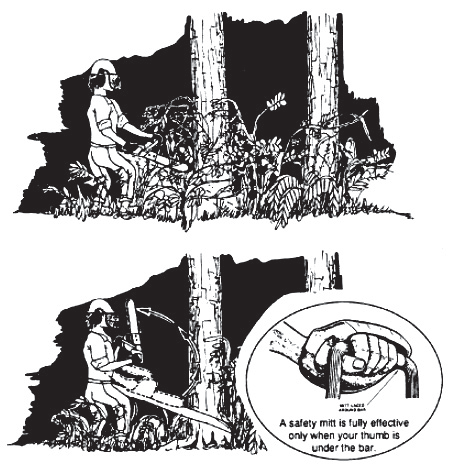 Investigation
The investigation revealed that:
The tree faller had not gripped the front handle of the chainsaw correctly – a safety mitt is only fully effective if the thumb is under the handle and held firmly.
An incorrect cutting method was also used.
The chain brake failed to activate because the side cover around the brake band area required cleaning.
The front engage and disengage handles were set too far forward.
WorkSafe New Zealand advice
When cutting blackberry or similar undergrowth:
have a correct grip on your chainsaw
hold your front arm straight in the locked position
operate the chainsaw with a side-to-side sweeping action
make sure your chainbrake is operational.
ensure you have eye protection.

Published: October 2010. Updated August 2017.


While this bulletin has not been updated to reflect current work health and safety legislation (the Health and Safety at Work Act 2015 and regulations), it may still contain relevant information and practices to keep workers and others healthy and safe. Please read this guidance in conjunction with all relevant industry standards that apply to you as a PCBU. This guidance will be progressively reviewed and either updated, replaced with other guidance, or revoked.