A 38-year-old trained and experienced logger was killed when he was struck by a tree.
Circumstances
A multi-leader radiata pine tree had been scarfed and back-cut. Only a small section of holding wood had been left.
The heads of the multi-leader appear to have been caught in a tree forward of the multi-leader and this prevented it from falling.
The tree faller walked forward to fell the tree that had prevented the multi-leader from falling. Positioned with his back to the cut-up tree, he began to make his felling cuts.
It is thought that as the tree faller was cutting the obstructing tree it moved and released the cut-up tree. The tree fell on him and he was fatally injured.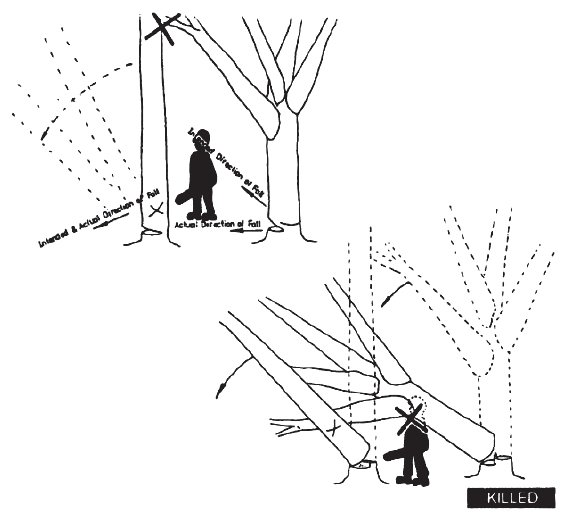 Investigation
The investigation determined that the accident was caused by:
working forward of a cut-up tree
felling aids not being used
scarf cut too deep with not enough holding wood left
a failure to clear round the base of the cut-up tree. the tree faller was unable to gauge the depth of the back-cut
the tree forward of the multi-leader should have been felled first
the multi-leader should have been driven out with another tree.
WorkSafe New Zealand advice
Never work forward of a hung-up or cut-up tree.
Never turn your back on a cut-up tree.
Use a machine to release lodged or cut-up trees.
To which industries/sectors or matters will this information be relevant?

Published: December 2010. Updated August 2017.


While this bulletin has not been updated to reflect current work health and safety legislation (the Health and Safety at Work Act 2015 and regulations), it may still contain relevant information and practices to keep workers and others healthy and safe. Please read this guidance in conjunction with all relevant industry standards that apply to you as a PCBU. This guidance will be progressively reviewed and either updated, replaced with other guidance, or revoked.