This safety alert highlights the serious health and safety risks involved if performing hot works (gas cutting or welding) on oil drums.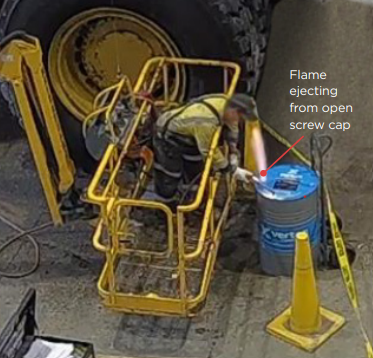 What happened?
WorkSafe was recently notified of a serious incident involving hot work being performed on an oil drum that resulted in a worker needing hospital treatment.
Although the worker's injuries were relatively minor, there was potential for more serious injury or a fatality, caused by explosion and/or fire.
How did it happen?
A worker wanted to cut the lid off an oil drum so the drum could be used for storing equipment.
The worker used brake cleaner to clean the oil residue out of the drum, and water was sprayed inside the drum to assist with the cleaning.
The worker then asked a colleague who was performing gas cutting activities elsewhere in the workshop to cut the lid off the drum.
The drum caps were removed. The gas cutter assumed that the drum contained water but did not check before he started the job.
Within five seconds of cutting the lid, gas fumes within the drum ignited causing flames to escape out of the drum cap screw holes and burn the gas cutter's neck.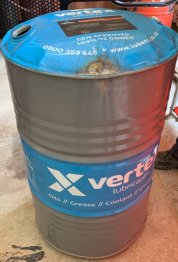 What can be learned
This incident shows how important it is for businesses to ensure workers are aware of the risks around hot work.
The hierarchy of controls should be used before considering cutting drums, such as elimination of the risk by using purpose built containers.
If it is necessary to cut metal drums, a risk assessment should be conducted and written safe work procedures that include effective cleaning and neutralising of the contents before cutting.
Where drum cutting must be done, businesses should ensure workers are instructed, trained and supervised in safe work procedures, use appropriate PPE, and adopt cold cutting techniques.
More information
We recommend businesses familiarise themselves with all aspects of safe welding by reading:Health and safety in welding
Hot work on small tanks and drums(external link)
worksafe.nt.gov.au