A logging contractor suffered fatal injuries when struck by a log thought to be disturbed by a log loader.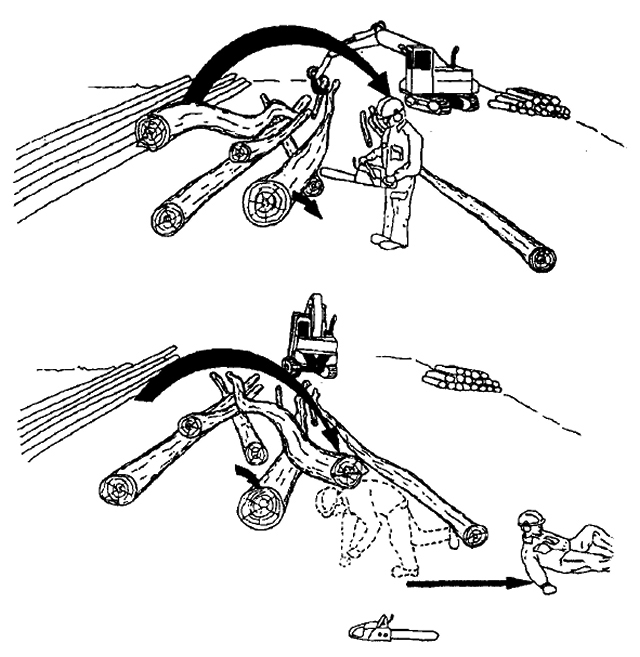 Circumstances
A reconstruction was necessary to determine how the contractor came to be hit. The following is based on assumptions from the reconstruction.
The contractor and the loader driver were working on the skid cutting and stacking logs. The excavator-type loader was working at one end of a heap of logs and the contractor was at the other. The operator used the machine to reach into the heap of logs to lift out some shorts for stacking. In the meantime, the contractor decided to start cutting slovens off logs at his end of the heap. In reaching into the heap, the loader caused the logs to slump down and a badly bent log arced over and struck the contractor while he worked.
Investigation
The investigation determined that the accident was caused through working on a heap of logs while a machine was sorting and stacking at the same heap.
WorkSafe New Zealand advice
Skid workers must remember that an operator's job requires a great deal of concentration and that their vision can be limited as the machine turns while working.
In this case, the operator has seen the contractor sitting on the blade arm of a parked bulldozer. The next time he looked, the contractor was lying on the ground with fatal injuries.
Workers must assess the stability of log heaps and if they appear unstable, get the machine to place the logs safety. They should never work on logs while the machine is reaching into the heap sorting and stacking.
To which industries/sectors or matters will this information be relevant?

Published: May 2010. Updated August 2017.


While this bulletin has not been updated to reflect current work health and safety legislation (the Health and Safety at Work Act 2015 and regulations), it may still contain relevant information and practices to keep workers and others healthy and safe. Please read this guidance in conjunction with all relevant industry standards that apply to you as a PCBU. This guidance will be progressively reviewed and either updated, replaced with other guidance, or revoked.