WorkSafe has banned the sale and use of Drybars heated clothes rack Model CR888 by way of a prohibition order from 6 August 2010.
These clothes dryers are potentially unsafe because of a manufacturing defect which has resulted in at least three house fires.  The Drybars heated clothes rack cannot be safely repaired and under the prohibition notice(external link) must not be resold or used again.
If consumers are concerned about their Drybars appliance they should: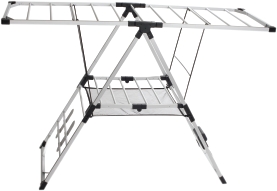 Check the back of their Drybars heated clothes rack control box, to see if it is one of the four affected batches.  The batch number is indicated as either S/N 912, 917, 921, or 932.
If it is marked with one these numbers, immediately switch off and unplug.
Only when unplugged, cut off supply lead at the control box. This will ensure it cannot be used in the future! Dispose of the lead in a safe manner.
Affected owners should contact the retailer where they purchased their Drybars. If it was purchased directly from the supplier, Heated Clothes Rack Co. Ltd, a claim can be lodged with the Liquidator administering that company (Rod McKenzie, PO Box 12165, Palmerston North 4444).