If you're looking to engage people across your business, check you're focused on the right things and strengthen health and safety in your work culture, then a SafePlus onsite assessment is for you.
What does an onsite assessment involve?
A SafePlus onsite assessment looks at how well your business is performing in health and safety leadership, worker engagement and risk management.
An independent SafePlus assessor will visit your business to take an in depth look, or deep dive into three of your critical health and safety risks.
During the deep dive the assessor will:
review your health and safety plans
observe how people work
talk to people from all levels of your business to understand how things are done
look at how the beliefs, attitudes and relationships of people influence how you make decisions.
At the end of the assessment, you'll get a detailed report of what is working well, and tailored guidance and advice on where you can improve. The report also includes feedback for each of the 10 performance requirements and how well you're managing each of the critical risks.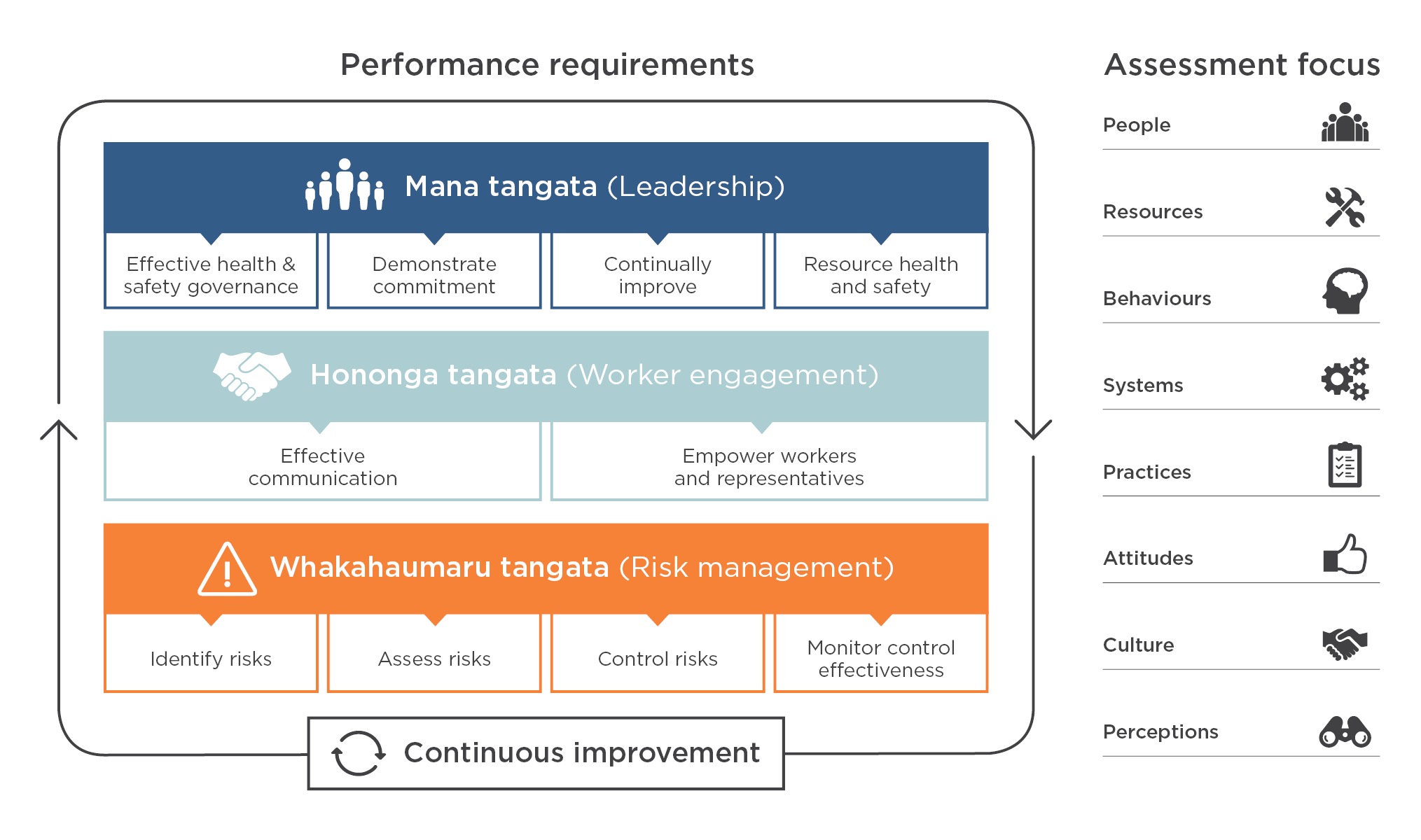 What's in it for you?
The SafePlus deep dive will support you to:

look beyond documented processes and procedures

reveal strengths and barriers to working safely

understand where to invest in health and safety

engage with people from across all levels of the business
Use the assessment results to improve your health and safety
You and your people work in a dynamic environment so you'll want to make sure that your health and safety plan and actions keep up with these changes. Talk with your SafePlus assessor about scheduling regular SafePlus onsite assessments so you can stay on top of your health and safety.
To see how different New Zealand businesses have used the SafePlus onsite assessment to improve how they manage critical risks and their overall health and safety, visit our case studies.
How much does an onsite assessment cost?
Every SafePlus assessor has their own fee structure. You'll agree on a cost with your assessor once you've decided on the scope of your assessment.
You can find more detailed information on the time and cost of a SafePlus assessment by clicking the plus sign below.
A SafePlus onsite assessment for a mid-sized organisation (approx. 50 to a few hundred staff) is likely to take about five-eight assessor-days to complete. This estimate includes pre-assessment planning, time on site, report development, and presentation of results. Simple assessments for smaller businesses have been completed in three days, while those for larger and more complex organisations have taken several weeks. The intent and process of a SafePlus onsite assessment, coupled with individual client requirements, mean there are no fixed timing (or pricing) rules.
The main variable in the time (and cost) of an assessment is the number of people covered by interviews and conversations. Assessors will work with their client organisations to judge the right number of people to talk with, based on client-specific factors including:
size of the organisation (or the parts within your agreed scope)
risks to be assessed
number of levels of management and supervision within the organisation
number of locations, shifts and/or teams to be sampled
the degree of consistency of information they find from documents and their conversations and observations. Inconsistent feedback may need additional interviews to explore.
Anticipate discussions with about 20% of staff in a mid-sized organisation, via one-to-one and group interviews. More than 20% coverage is likely for organisations with fewer than 50 people, while a smaller proportion is likely for organisations with several hundred or more staff. Individual interviews take about 30-45 minutes each.
Other factors that have influenced assessors' time needed (or duration) for assessments are:
whether the lead assessor needs to engage a subject specialist for one or more of the risks to be assessed
the extent of support the client wants in both preparing for the assessment, and presenting the results. For example, whether presentations to board, management and staff meetings are requested of the assessor.
the number of SafePlus accredited assessors involved. (We recommend at least two accredited assessors in most situations.) While sharing the work between two or more assessors doesn't impact total assessor time on site, it will affect the assessment's duration and may affect assessor costs
whether the assessment scope needs to be revisited after the assessment has started, for example, a risk that wasn't considered important initially may be identified during interviews as a key issue to include
the extent of client feedback to the assessment report that the assessor needs to respond to.
More information
You can find more detailed information about the onsite assessment in our guide to the SafePlus performance requirements.
SafePlus performance requirements