Delivering the right mix of services
We are optimising our services and tools to support best practice and lift health and safety capability.

Our why
WorkSafe's success relies on making effective choices – we have finite resources available and need to intervene in the best way to make the greatest impact. Delivering sustained improvement requires a clear understanding of the mix of services and tools we need to best deliver against our strategy. We aspire to be a regulator that targets the areas where we can make the greatest difference, while providing flexibility to be responsive to ongoing issues and emerging trends.
Regulatory framework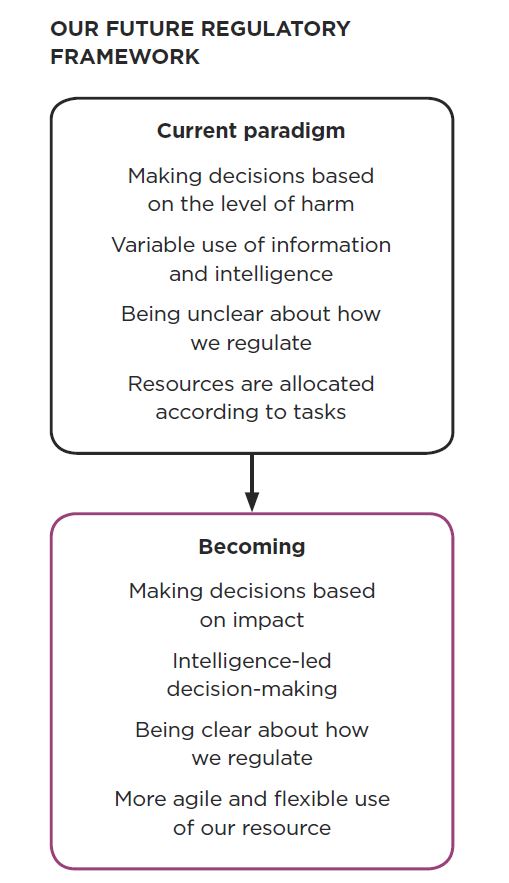 To guide our decision-making we are adopting a regulatory framework. During 2018/19 we explored the most commonly known regulatory models and spoke to leading experts Professor Richard Johnstone from QUT and Professor Malcolm Sparrow from Harvard University. Based on this exploration we decided to adopt a mixed-model approach.8 This approach has guided the development and evolution of our enterprise-wide target operating model that will shift us towards our future vision of being a modern regulator with a regulatory regime that's the right fit for New Zealand.
Alongside this work during the year we progressed our Operations Group operating model, a four-step process to transform the way our operational functions work. In 2018/19 we completed the first two steps, building a strong operations leadership team and high-level operating model.
During the year we have worked with MBIE on the development of the Plant and Structures Regulations. Plant and structures is a huge topic covering everything from machinery to mobile plant, amusement devices, cranes, pressure equipment, and structures such as scaffolding and excavations. These regulations are being reviewed as part of ongoing regulatory reform and are being prioritised because they are associated with a high-risk of injury and deaths, and are used extensively in our high-risk sectors. A wide group of technical experts across WorkSafe has ensured our expertise has contributed to MBIE proposalsfor new regulations.
Building our harm prevention approach
We are working to reduce harm through targeted, evidence-based programmes. We enable workers to participate in and influence health and safety improvements.

Our why
The level of harm at work in New Zealand remains unacceptably high. This is particularly the case in our higher-risk sectors (agriculture, forestry and logging, construction and manufacturing), and in sectors where rates of harm are increasing, such as transport. Significant investment is needed to reduce the high level of work-related ill health. Delivering sustained health and safety improvement requires a comprehensive approach to preventing harm.
Building our harm prevention approach in higher-risk sectors
Targeting the drivers of harm in higher-risk sectors is a key focus for WorkSafe. These sectors are identified as higher-risk because they account for a higher proportion of work-related fatalities, injuries and work-related harm. Our work helps to raise awareness and change health and safety practices in these sectors. We worked closely with industry, businesses, workers and unions to bring about this change. Performance has stalled in the four sectors. In the years anticipating the Health and Safety at Work Act, improvements were significant and steady. Since then, progress has levelled off or gone backwards slightly. Everyone needs to work to regain that momentum.
A new Data Centre4 was launched to enable people to access up to date harm information and data.
Agriculture

Construction

Number of fatalities

July 2018 - July 20195

13
15
Injuries requiring more than
a week away from work6 for the year
2,307
4,905

On average per month

Jan - Dec 2018

192
409
Month with most injuries requiring more than a week away from work6
225
504
Most common accident type

Jan - Dec 2018

Vehicle incident
Muscuular stress while lifting, carrying or putting down objects

Worker engagement, participation and represenation

% of workers who agree they always have a say in decisions affecting their health and safety7

86%
75%
Forestry and Logging

Manufacturing

Number of fatalities

July 2018 - July 20195

4
8
Injuries requiring more than a week away from work6 for the year
147
5,091

On average per month

Jan - Dec 2018

12
424
Month with most injuries requiring more than a week away from work6
21
504

Most common accident type

Jan - Dec 2018

Falls on the same level
Mucscular stress while lifting, carrying and putting down objects

Worker engagement, participation and represenation

% of workers who agree they always have a say in decisions affecting their health and safety7

91%
79%

Work-related harm profile
Airborne hazards account for the greatest number of deaths in construction, manufacturing and primary industries (agriculture, forestry and fishing). They include agrichemicals, asbestos, benzene, chromium vi, diesel engine exhaust, nickel, polycyclic aromatic hydrocarbons (PAH), second-hand smoke, silica dust, welding fumes, wood dust. Other work-related health risks for these industries include:
animal-transmitted bacteria
manual handling
noise
shift work/fatigue
sun exposure
work stress (high job demand/ low job control).
FOCUSED ENGAGEMENT AND EDUCATION PROGRAMMES FOR HIGHER-RISK SECTORS
Our focus over 2018/19 has been working with higher-risk sectors and industry bodies to raise awareness of their leadership responsibilities and how they can influence their sector to improve worker engagement and health and safety practice. Specific initiatives for each sector include:
Agriculture
Revised Use of Crush Protection Devices on Quad Bike policy.
Worked with ACC and suppliers to offer a significant subsidy for crush protection. You can read more about this in the Using a range of levers to reduce harm case study.
Created virtual reality and simulation tools to demonstrate alternative ways of developing or testing competence.
Created new vehicle-specific guidance.
Supported organisations in delivery of their safety programmes and research into injury prevention.
Engaged with chemical retailers about requirements under the new regulations and produced retailer- and farmer-specific guidance.
Supported delivery of an in-school safety programme for rural primary schools.
Supported the New Zealand Young Farmer of the Year competition, strengthening relationships with the sector. You can read more about supporting Young Farmer of the Year in the Helping young farmers become old farmers case study.
Worked with Rural Accountants to shift compliance thinking to production thinking.
Construction
Supported development of the Construction Sector Accord, a joint Government industry commitment to lift the performance of the construction industry. WorkSafe is jointly leading the key priority initiative on improving health and safety, including workforce mental health and wellbeing.
Supported the Construction Health and Safety Association of New Zealand (CHASNZ) to develop a national, mutually recognised health and safety pre-qualification system for the construction sector.
Funded CHASNZ to support the Mates in Construction suicide prevention trial.
Established relationships with the organisations leading three of New Zealand's largest construction projects.
Forestry and logging
Co-hosted with FISC joint Summit in November to address issues across the supply chain, crew culture and leadership development and support of local industry organisations.
Developed assessment approaches and focused on mobile plant suitability and operation, guarding and fall protection as high-level controls for managing risk.
Investigated ongoing critical risks in tree felling, breaking out, changed conditions, mobile plant and travelling to and from work, and strengthened industry capability to learn from incidents.
Supported health programmes including those arising from increased mechanisation, impairment and psychosocial risks.
Manufacturing
Signed partnership agreement with the Meat Industry Association. The agreement will provide a coordinated and consistent approach to the meat industry with the goal of reducing injury in the sector.
Piloted the Puataunofo programme with Silver Fern Farms. The programme provides a greater understanding for Pacific Peoples, who are over-represented in the industry, around health and safety when working in meat processing.
Cross-sector initiatives to prevent harm
Work-related health
Every year many thousands of people develop serious health conditions because of health risks associated with their work. The burden on workers, their families and the wider economy from work-related ill-health far outweighs the burden from workrelated injuries.
We measure the impact of work-related disease so we can develop effective ways to improve worker health. We do this using work related health estimates and burden of harm estimates informed by comprehensive international research.
These estimates are used to compare between illness caused by long-term exposure to hazards and illness caused by acute injury. During the year we reviewed our estimates to take into account new data and research.
Using work-related health estimates and disease burden estimates we have developed a measure to put a value to the burden of harm from work-related ill-health and injury. The measure, disability-adjusted life years (DALYs), enables comparison between diseases with different harm profiles and enables comparison between work-related acute injuries and work-related ill-health.
The burden of harm calculations show that acute injuries (including fatalities) account for only 11% of annual workrelated DALYs lost compared to musculoskeletal harm (27%), mental health harm (17%), cancers (16%) and respiratory harm (14%).
---
A worker is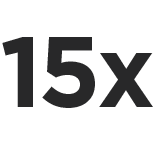 more likely to die from a work-related disease than from a workplace accident
---

work-related health deaths every year
---
Approximately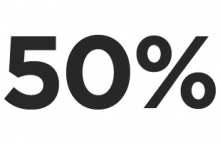 of all estimated deaths are caused by cancers
---

work-related health hospitalisations every year
---
Approximately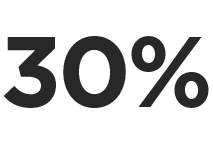 due to chronic obstructive pulmonary disease (COPD) from exposure to vapours, dust, gases and fumes
---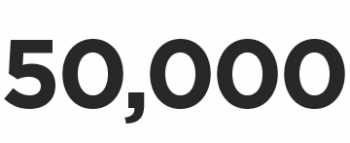 work-related DALYs are lost annually, translating into a social cost of at least $2 billion each year
---
Total burden of harm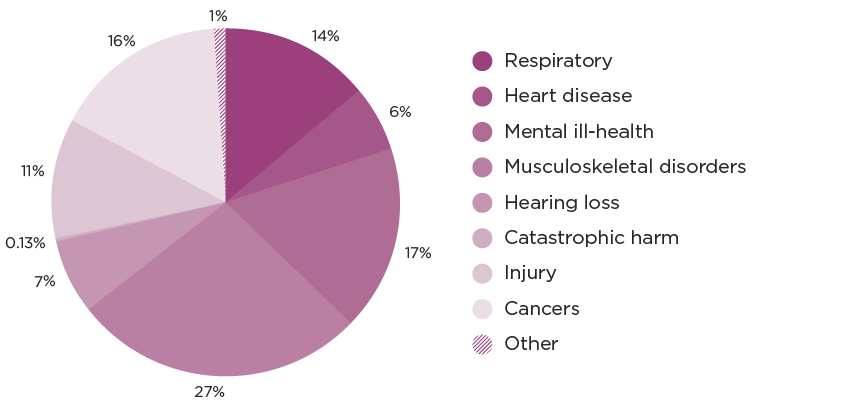 Working In and Around Vehicles (WIAV) programme
Vehicles are a significant contributor to work-related harm. During 2018/19 we engaged with stakeholders and researched the level of harm caused from working in and around vehicles. We discovered vehicles are linked to three-quarters of all work-related fatalities, with more vehicle-related fatalities occurring in the agriculture, forestry and transport, postal and warehousing sector. Our cross-sector WIAV initiative aims to reduce this harm by working with stakeholders to create suitable interventions that improve health and safety outcomes across all sectors.
Our engagement and research identified five target areas that we will focus on over the next two years:
reduce acute and non-acute injuries and fatalities in the trucking industry
address health and safety risks created in the supply chain from outsourcing and contracting arrangements
safe vehicles operation on wild sites (off road)
seat belt use (on and off road)
site traffic management practices.
---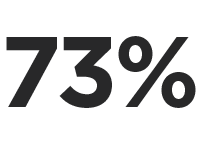 of New Zealand's work-related acute fatalities are linked to vehicles
---
Around

workers are killed each year
---
Approximately

deaths and 50 hospitalisations are caused by diesel exhaust exposure
---
Estimates for the number of deaths and hospitalisations in New Zealand resulting from sedentary work involving vehicles haven't been calculated. There is a growing body of evidence suggesting negative health impacts linked to this work.
---
Vehicle-related fatalities by industry 2010-2017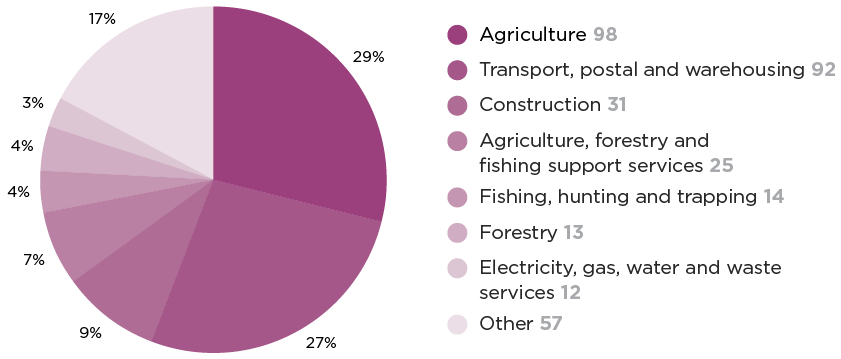 Growing effective strategic relationships
We use the influence and insights of our strategic partners to work together to drive system-wide changes.

Our why
Transforming New Zealand's health and safety performance will take a joint effort. It requires commitment from all system participants to work constructively together. We are committed to building and supporting enduring and effective relationships, where industries and sectors take ownership and lead the culture and system of changes that are required to make the country's work safer and healthier. The needs and interests of workers sit at the heart of these relationships.
Working with and through others in 2018/19
Engaging strategically nationally
In the past 12 months to strengthen our working relationships with other regulatory partners we established inter-regulator forums at three different levels – Chairs, Chief Executives and tier two managers. Membership of these groups includes WorkSafe, Maritime New Zealand, Civil Aviation Authority, Environmental Protection Authority and New Zealand Transport Agency. The groups meet periodically to explore and activate opportunities to better align and collaborate on initiatives that contribute to the effective design and operation of the system. You can read more about our strategic engagements in the Leading system conversations case study.
During the year we also refreshed the Harm Reduction Action Plan (HRAP) with ACC. The HRAP shows how WorkSafe's and ACC's investments and efforts to improve work-related health and safety are coordinated and complement each other. It concentrates on what will make the biggest impact to reduce work-related fatalities and potentially fatal work injuries. The HRAP takes into account the goals and priorities of the Health and Safety at Work Strategy 2018–2028, our 2018–2022 strategy, and ACC's injury prevention strategy and priorities.
Engaging at internaional level
We co-hosted WorkSafe Victoria with ACC to learn from Victoria's transformation into a harm prevention focused organisation. This is an ongoing relationship that encourages sharing of insights and efficiencies. We also joined the Australasian Evidence Reference Group, a strategic forum that shares and collaborates on key evidence activities. The group includes representatives from our peers in Australia and helps WorkSafe and other Australian jurisdictions to share information and gain exposure
to each other's evidence activities.
WorkSafe is involved with the Heads of Workplace Safety Authorities (HWSA), a group committed to working together to achieve healthier and safer work by influencing the prevention of work health and safety harm. HWSA members are the senior representatives of the work health and safety regulators in the Commonwealth and states/territories of Australia.
Case study: Safety case assessments in full swing
Safety cases are an established legislative control mechanism around the world. The regime is now well underway in New Zealand, with WorkSafe's High Hazards team assessing safety cases in both the petroleum and major hazard facilities areas.
The Health and Safety at Work (Major Hazard Facilities Regulations) 2016 imposed a three-year transition phase for the Major Hazard Facilities (MHF) safety case regime. The petroleum safety case regime is in its second five-year cycle under the Health and Safety at Work (Petroleum Exploration and Extraction) Regulations 2016.
WorkSafe's teams have undertaken extensive industry consultation and engagement throughout the lead-in and implementation of the regimes.
Across the country there are an estimated 59 upper tier MHF and 35 petroleum sites. Our teams have been working through the extensive safety cases already provided, and in many cases making requests for further information.
Over the year industry engagement has also continued with a focus on ensuring all facilities understand the importance of safety cases, including the important elements of both leadership and worker engagement in ensuring the safety case becomes an inherent part of how all work is done.
Industry engagement was extremely positive, with the businesses involved recognising the positives of the process and how integrating the work within their business can create significant benefit.
---

safety cases submitted
---

safety cases accepted
---

petroluem safety cases submitted and accepted
---
Case study: Helping young farmers become old farmers
A new three-year partnership with the iconic FMG Young Farmer of the Year competition is helping us to engage New Zealand's future farming leaders with health and safety in a friendly setting. Along the way we are building rapport with rural communities and hoping to create generational change.
WorkSafe has had a significant focus on engaging with the agricultural sector over many years, and has strong industry relationships. But some attitudes remain entrenched and shifting behaviours isn't easy. We identified the need to influence the next generation of rural leaders, to help change perceptions of health and safety. A strategic partnership with FMG's Young Farmer of the Year was born.
With 300 contestants battling it out for the prestigious title each year plus AgriKidsNZ and Junior Young Farmer of the Year competitions, this partnership gives us the chance to have a very different engagement with rural communities.
WorkSafe ran health and safety modules at all regional events, with a particular focus on the areas of vehicle safety, machinery, and health and safety leadership. These practical challenges were created collaboratively between our local teams and Young Farmers' representatives and we had a strong staff presence at all events.
Through this partnership WorkSafe has also successfully engaged the Young Farmers organisation, FMG and other sponsors to become even stronger, independent advocates for health and safety. Over the next two years of our partnership we'll continue to build our presence, outreach and connections within the sector to help make sure young farmers become old farmers.
Case study: International influence local impact
With one of the widest mandates in the organisation, our dedicated Energy Safety team had a stellar year, with its influence being felt across Asia-Pacific as well as in homes and businesses across the country.
WorkSafe chaired the most recent Asia-Pacific Economic Cooperation (APEC) Sub- Committee on Standards and Conformance's Joint Regulatory Advisory Committee (SCSC JRAC). As Chair, our focus was on providing and facilitating capacity building amongst the APEC region's regulatory agencies to improve the safety of electrical and electronic products traded in the region, and encouraging projects to address the changing risks associated with new technologies.
This was only one of a significant number of international engagements conducted by WorkSafe, with a particular focus on engagement with Chinese trade and regulatory forums, to help us to better understand the compliance standards for Chinese product
WorkSafe's mandate extends beyond work to ensure the safe supply and use of electricity and gas in the home environment. This international liaison is an important regulatory intervention at the start of the supply chain. Closer to home, the team has regular interaction with New Zealand retailers and traders to share intelligence and identify trends.
With electricity use changing dramatically over recent years, our focus this year also included industry engagement, liaison and the preparation of guidance to help consumers to understand how to charge electric vehicles safely and how to manage work around low voltage electricity lines. And, at a home level, Claude the energy spokes-cat had another successful year communicating the risks around the use of LPG, electric blankets and multi-plug boards.
Case study: Using a range of levers to reduce harm
Nearly 90% of all deaths on farms involve a vehicle, and an average of five people each year lose their lives due to incidents involving quad bikes. Over the last year we've had a significant focus in this area, taking a more holistic view of the range of levers that can influence change in the agriculture sector.
This approach culminated at the 2019 National Fieldays at Mystery Creek, where we launched a revised policy clarification which strongly recommended the fitting of crush protection devices (CPDs).
The policy clarification was only one part of the picture. We worked with ACC to design a subsidy to help rural businesses buy CPDs for quad bikes used for work. This announcement also took place at Fieldays and it was supported by significant discounts offered by manufacturers at the event.
Our long-standing and high-trust relationships with key stakeholders and leaders within the agriculture industry helped support both announcements, with many external parties positively and publicly endorsing the initiatives. Our partners also worked hard to cascade the information to their members and communities, demonstrating their own leadership in creating behavioural change in the sector.
Finally, we worked to stand out from the crowd at Fieldays to make sure our messages got through. With 130,000 visitors and 1,059 exhibitors at the event, it's not easy to get your message heard. We needed to innovate to make sure health and safety information was not only heard, but positively received.
Our focused approach worked – WorkSafe's stand was voted one of the top five attractions at Fieldays – the first time we've ever featured in this mix. Our stand showcased a hugely popular virtual reality simulator, which was designed to bring into sharp focus the challenges and potential dangers of driving in the farm environment. This gave further weight to the important announcements being made. Our dedicated team of agricultural specialists were on hand throughout the event for more in-depth conversations, and they reported a significantly more positive attitude to health and safety, and WorkSafe, thanat previous Fieldays.
While it is too early to assess the impact on harm prevention outcomes, importantly we have alreadyseen a change in behaviour – the uptake of quad protection in the months June – September 2019 is approximately four times that of the same period in 2018. This illustrates the power of a coordinated and responsive approach based on our understanding of the farming sector and utilising a broad range of regulatory and non-regulatory levers.
Case study: Rapid response to an emerging risk
Following a spike of notifications about uncontrolled ammonia releases, WorkSafe staff across the country collaborated to develop a proactive assessment and education response to address this emerging risk.
New Zealand is a signatory to the Kigali Amendment to the Montreal Protocol, which requires a reduction in the use of Hydrofluorocarbons (HFC) from 2019, and an eventual 85% reduction in use by 2036.
This global phase-down means alternative refrigerants, including ammonia, will increase in use. This will have positive environmental benefits, but needs careful management as it presents increased health and safety risks.
Once this trend was identified we rapidly developed a training programme to increase our inspectors' understanding of the risk; this was supported by a new assessment tool, technical bulletin and practice guidance. Once our team was empowered with this more detailed understanding, an external assessment programme targeting businesses across New Zealand commenced.
The goal of the initial programme was to visit 60 sites that were using ammonia as a refrigerant, but inspectors nearly doubled this. At many sites, businesses invited their service providers and refrigeration engineers to attend the assessments, which meant more detailed conversations about safely servicing and maintaining the plant could happen.
About half of visits involved enforcement activity, but our most important work has been engaging positively with businesses across the country. This has significantly increased awareness of the health and safety risks presented by ammonia, and how to manage them.
An additional benefit has been that the experience of rapidly building a multi-faceted regulatory engagement programme has created a model that can be used for future emerging risks. The learnings have already been applied to our current response to accelerated silicosis.
Footnotes
4 data.worksafe.govt.nz(external link)
5 Data sources: WorkSafe Fatalities Registers (includes information based on confirmed fatal work-related incidents reported to WorkSafe) and ACC claims (includes information based on accepted ACC claims for work-related fatalities, which can include work-related fatalities that come under the Maritime New Zealand, Civil Aviation Authority, and New Zealand Police jurisdictions).
6 Data source: System from Work-related Injury Forecasting and Targeting (SWIFT). It includes ACC data on approved work-related injury claims that resulted in more than a week away from work (WAFW).
7 Data source: Workforce Segmentation and Insights Programme (WSIP).