Injection and blow moulding presses use plastic granules loaded from a hopper into a closed auger. They pass through a heater to be melted and forced into a mould.
While this guidance has not been updated to reflect current work health and safety legislation (the Health and Safety at Work Act 2015 and regulations), it may still contain relevant information and practices to keep workers and others healthy and safe.
Please read this guidance in conjunction with all relevant industry standards that apply to you as a PCBU. This guidance will be progressively reviewed and either updated, replaced with other guidance, or revoked.
The moving part of the mould is forced against the fixed part by a hydraulic ram with several tonnes of force. Molten plastic is shaped into a hollow tube, which is blown into the shape of a mould, for example a bottle.
The mould is held closed during plastic injection and cooling. It is forced open by the hydraulic ram and the moulded item is taken out for further processing.
Blow moulders often have machinery associated with them to handle formed products. This additional machinery presents hazards that require identification and guarding.
Figure 1: Injection and blow moulding press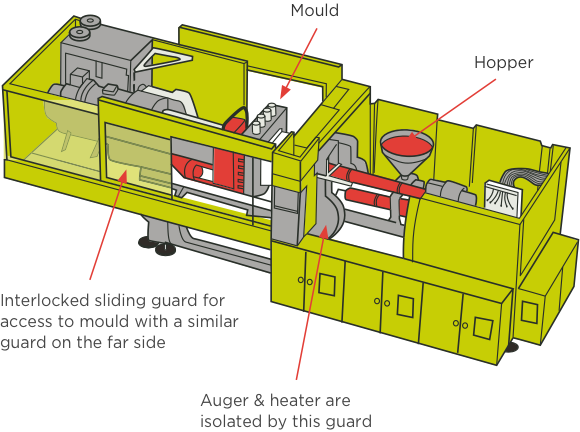 Figure 2: Moulding process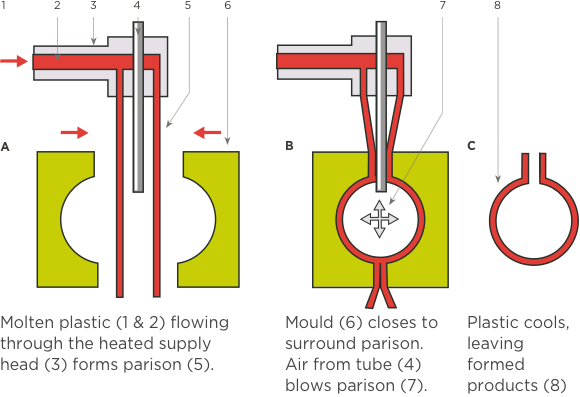 Hazards
Manual Lifting
Entanglement from reaching into the auger
Entrapment in closing moulds
Heat from plastic
Toxic fumes
Entrapment in moving parts
Dust
Noise
Slips, trips & falls
Entrapment from unexpected movement (during maintenance, cleaning & repairs)
Personal protective equipment (PPE)
Ear protection
Eye protection
Respiratory protection
Tasks
Task – Load granules
Hazard
Harm
Controls
LIFT loads in manageable quantities.
USE mechanical aids when necessary.
USE pneumatic conveyors.
Bags of granules are often lifted manually to pour into the hopper.
Hazard
Entanglement from reaching into the auger
Harm
Risk of cuts and crushing to hands
Controls
FIX guards where possible to prevent reaching into the auger.
KEEP interlocked guards safely maintained.
USE mesh to prevent reaching through hoppers.
Hazard
Entrapment in closing moulds
Harm
Crush injuries to anyone caught in a decreasing gap
Controls
ISOLATE hazardous processes such as heat or mould closure.
Automatically PUSH moulded components from the mould, onto a belt conveyor or into a bin for collection.
PROVIDE dual channel interlocks, with mechanical stops if necessary, to ensure that moulds cannot close.
USE mechanical aids for lifting, when appropriate.
Moulds close with several tonnes of force, and weigh up to several kilograms.
Task – Heating, melting, and moulding collection
Hazard
Heat from plastic
Toxic fumes from hot plastic
Harm
Burns from touching the auger cover or being hit by molten plastic
Inhaling toxic fumes – breathing problems, lung damage
Controls
ISOLATE hazardous processes such as heat or mould closure.
When heating granules, USE temperatures low enough to avoid formation of toxic vapours.
SHIELD the auger and heating equipment from contact.
PROVIDE adequate ventilation.
USE respiratory protection.
Plastic becomes liquid at about 200°C. Plastic is forced into moulds under high pressure. Leakage between the auger and the mould is likely to squirt out jets of molten plastic.
Hazard
Entrapment in moving parts
Harm
Crush injuries
Bruising
Fractures
Controls
USE dual channel interlocks to stop mould parts moving while guards are open.
FIX guards to prevent reach into moving parts – guards open MUST be interlocked to prevent movement.
MAINTAIN guard interlocks in a safe operational condition.
USE mesh within the hopper, or by high-sided hoppers, to prevent reach to the moving auger.
Presses with guards that close under power MUST be fitted with:
sensitive edges on both sides to detect intrusion and stop, OR
a reduced pressure closing system which allows a person to easily stop the guard.
If additional Safeguards are required, they MUST be fitted by competent suppliers.
Other (non-mechanical) hazards
Hazard
Harm
Eye irritation or damage
Breathing problems
Lung damage or cancer
Worsening of existing health problems
Risk of explosion or fire
Controls
USE dust extraction equipment to minimise dust getting in the operator's breathing zone.
HANDLE and STORE granules to minimise spills and dust.
Promptly CLEAN plastic dust from surface.
PROVIDE adequate ventilation.
ALWAYS WEAR eye protection.
ALWAYS USE respiratory protection.
KEEP fire extinguishers nearby, and ensure operators know how to use them.
Hazard
Harm
Controls
REDUCE noise levels by isolating machines or enclosing within noise barriers.
ASSESS noise levels.
ARRANGE hearing screenings.
ALWAYS WEAR hearing protection.
A safe noise level over an eight hour day is 85dB(A). An injection and blow moulding press may exceed this noise intensity.
Hazard
Harm
Trapping or crushing injuries
Burns
Bruising
Controls
KEEP up-to-date housekeeping procedures.
KEEP the area around machines clear of slip and trip hazards.
Task – Maintenance, cleaning & repairs
Hazard
Entrapment from unexpected movement
Harm
Cuts
Burns
Crush injuries
Controls
LOCK-OUT ALL power supplies before maintenance, cleaning and repairs.
When guards are open, there MUST be a second option to shut off power.
USE the correct electrical rated equipment.
KEEP guard interlocks safely maintained.
KEEP daily inspection records, and ARRANGE regular testing.
ARRANGE annual inspections by a qualified technician.
REMOVE presses that fail safety tests, and DO NOT USE until repaired or replaced.
Instructions MUST be available in a language understood by the operators. Material safety data sheets (MSDSs) should be made available. Presses MUST meet original specification.
If additional safeguards are required, they MUST be added by a competent technician working to recognised standards.
Download fact sheet
Injection and blow moulding presses