A platen press is a printing press in which paper or other material, supported on flat impression surfaces, is forced against printing surfaces that are supported on stationary flat beds. This includes creasing and scoring presses of the platen type.
While this guidance has not been updated to reflect current work health and safety legislation (the Health and Safety at Work Act 2015 and regulations), it may still contain relevant information and practices to keep workers and others healthy and safe.
Please read this guidance in conjunction with all relevant industry standards that apply to you as a PCBU. This guidance will be progressively reviewed and either updated, replaced with other guidance, or revoked.
Presses vary in size and methods of power, from small desk-mounted presses that may be handpowered, to large floor-mounted, electrically-powered presses that are big enough to cut out adult sized images used in advertising.
Sometimes, the platen press is fed automatically, and may be part of a sequence of operations where materials are printed, cut, creased, folded and glued, to form cartons or boxes.
Figure 1: Platen press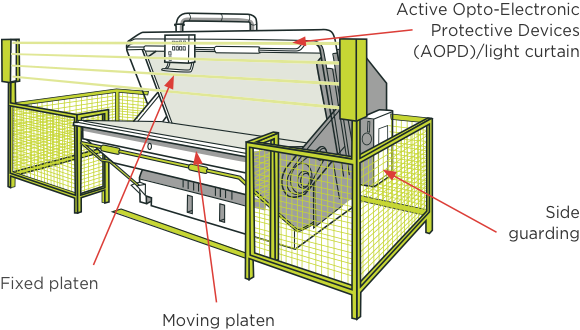 Hazards
Heavy lifting
Entrapment from hand-fed platens
Contact or impact from moving parts/unwanted movement
Noise
Slips, trips and falls
Entrapment from unexpected movement (during maintenance, cleaning & repairs)
Personal protective equipment (PPE)
Ear protection
Eye protection
Tasks
Task – Load & unload
Hazard
Harm
Controls
PRESENT material on tables that match the height of the moving platen – the table-top presenting the material should adjust upwards as the stack goes down.
Task – Feed materials to the press
Hazard
Harm
Serious harm or fatal injuries when the platen closes
Crushing and shearing injuries
Controls
USE automatic safety devices where automatic feeding isn't possible.
USE presence sensing devices. TEST the sensing system, and the clutch and brake system, regularly.
FIT safety devices to prevent the platen from closing while people are at risk.
POSITION hand-fed presses away from busy walkways, to prevent interference.
PROVIDE adequate lighting.
Hand-fed platens place operators at most risk. A small platen press (up to about one metre wide) has an opening large enough for a hand or arm to enter. A large press will allow most of an adult sized body between the platen and the bed, sometimes without detection by safety systems. Using continuous mode, where the platen closes automatically, is more of a risk than when the platen is started by the operator at the beginning of each cycle. When material is fed automatically, the automatic feed mechanism should ensure that hazards are isolated.
Task – Press operation
Hazard
Contact or impact from moving parts/unwanted movement
Harm
Bruising
Fractures
Crush injuries
Controls
FIT detection systems to prevent movement of the platen while accessing the front.
FIX barriers at the sides of the platen to isolate hazards from the sides.
PREVENT access to the platen until the clutch is disengaged.
LOCK-OUT the clutch to prevent re-engagement.
LOCK-OUT power during long duration tasks.
Other (non-mechanical) hazards
Hazard
Harm
Controls
REDUCE noise levels by isolating machines or enclosing within noise barriers.
ASSESS noise levels.
ARRANGE hearing screenings.
ALWAYS WEAR hearing protection.
A safe noise level over an eight hour day is 85dB(A). A platen press may exceed this noise intensity.
Hazard
Harm
Controls
KEEP up-to-date housekeeping procedures.
KEEP the area around presses clear of slip and trip hazards.
Task – Maintenance, cleaning & repairs
Hazard
Entrapment from unexpected movement
Harm
Serious injuries to hands and arms – crushing, shearing
Controls
LOCK-OUT all power supplies before maintenance, cleaning and repairs.
Shutting down the main source of power MUST also prevent unsafe operation of the control system.
APPLY daily safety checks.
ARRANGE regular inspections and testing by a competent person.
REMOVE or LOCK OUT platens that fail safety inspections, and DO NOT USE until repaired or replaced.
Any modifications to the original control circuits developed by the platen manufacturer MUST be fitted. When a platen is altered, for example, by changes to guards or barriers, a new hazard assessment MUST be performed, and safety improvements made.
Download fact sheet