WorkSafe has updated the prohibition covering the sale and use of two models of Goldair-branded wall-mounted fan heaters that are intended for use in bathrooms. The units have caused a number of fires. The updated notice refines the identification of the affected heaters.
The only heaters affected by the prohibition have the model number 3108 or 3109 on the back. As described in the Electricity Regulations (Prohibited Electrical Appliances – Goldair Branded Wall-mounted Fan Heaters Models 3108 and 3109) Notice (No. 2) 2014, both models appear similar to the photographs below except that the 3108 has two power levels and the 3109 has only one. (The previous notice was Prohibition Notice – Goldair Branded Wall-mounted Fan Heaters – 26 June 2014 | Energy Safety).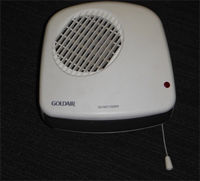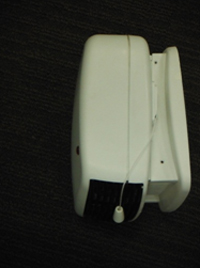 These heaters are now five or more years old. WorkSafe recommends that consumers should immediately turn off any of the prohibited heaters at the wall and not use them.
WorkSafe advises, as a general electrical safety precaution, that any plastic-bodied wall-mounted fan heaters used in bathrooms should not be operated when they are not attended.
Contact WorkSafe Energy Safety at 0800 030 040 – select Option 4 for more information.