This safety bulletin outlines an incident where a lower load hook became detached from the hook block, and provides recommendations to prevent this happening again.
Incident
Lower load hook became detached from the hook block.
Circumstances
The chain block was inspected and certified by an independent third party as fit for continued service approximately six months prior to the incident.
The chain block had been used, albeit only twice, prior to the day of the incident and on both occasions had been cleaned, lubricated and inspected as fit for continued service prior to being stored.
On the day of the incident no defects or damage was noted during the days  work.
After transport back from site, prior to inspection, it was noticed the load hook had failed and fell out of the bottom block.
Investigation
On closer inspection it was noted that the plug, that holds the ball bearings in the crosshead that anchors the hook and allow the hook to swivel, was missing.
This in turn had allowed the bearing balls to escape allowing the hook to become detached.
Close inspection showed no significant wear or fatigue on any component.
We are aware of a similar failure to a chain block in Australia(external link) (PDF)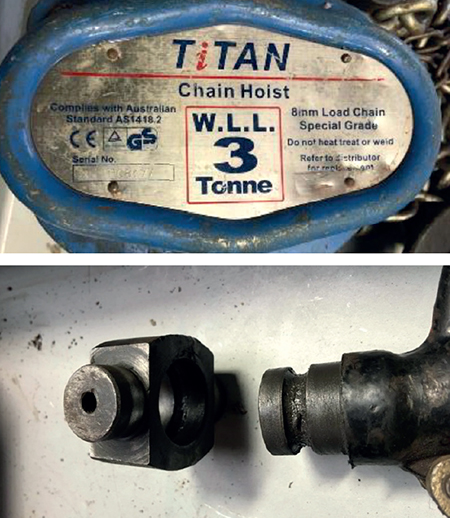 Recommendations
All equipment with similar systems for securing the load hook to the block should be closely examined prior to ongoing further use.
It is important that inspections are carried out by competent persons.
Lifting equipment inspections are clearly documented, recorded and held on a register.
Inspections are carried out prior to use of any and all items of lifting equipment (ACoP s 5.10).
Guidance
Download
Technical bulletin: 3-tonne 'Titan' brand chain block
ACOP: Load-lifting rigging