The Chair of WorkSafe New Zealand, Professor Gregor Coster announced today that Nicole Rosie will be the agency's new Chief Executive.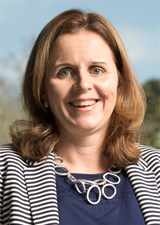 "Nicole is currently a senior manager at Fonterra and has an impressive background in health and safety management at some of this country's largest companies. She also has extensive experience in managing substantial transformation projects with large budgets," Professor Coster said.
"At Fonterra, she was Director for Health and Safety before leading the development and delivery of a new farmer shareholder-focused brand and relationship management programme, and most recently she has lead transformation projects designed to deliver over $120 million value over two years".
Trained as a lawyer, Nicole Rosie also has direct health and safety experience in the transport infrastructure and forestry sectors at KiwiRail and Fletcher Challenge Forests.
"Nicole's experience in health and safety and management will bring a new dimension to WorkSafe's ability to meet its commitments to leading the cultural and operational change required to bring down New Zealands unacceptably high levels of workplace deaths and injuries," Professor Coster said.
"Nicole is a highly experienced executive who has led health and safety; led major change programmes; worked in ACC and injury management, forestry, transport infrastructure and energy; and managed relationships with industry in her roles in transport, electricity and at Fonterra.
"This is a unique mix of talents and we are privileged to be able to appoint a Chief Executive of this calibre to lead WorkSafe."
Nicole Rosie will take up her role on 12 December 2016 replacing Gordon MacDonald who is returning to the United Kingdom after leading WorkSafe for nearly three years.