WorkSafe has prohibited certain devices called inverters that convert electricity from alternative power sources to be used in homes because they could cause an electric shock or a fire. Purchasers are advised not to use the product and to return it to the supplier for a refund.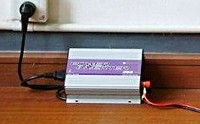 Inverters are electrical fittings that convert direct current (DC) electricity to alternating current (AC) electricity.
WorkSafe has prohibited the manufacture, importation, sale and use of electrical inverters that are fitted with a lead and plug that allows electricity to be supplied into an electrical installation through a socket outlet. The prohibited inverters are described in the prohibition notice. They include, but are not limited to, 'grid tie inverters'. This prohibition is effective from 12 January 2012.
The prohibited inverters are unsafe because they allow alternative power generation systems to be connected to an installation in a way that bypasses the installation's protection against overloading of cables and electric shock. This creates a risk of serious harm to people or significant property damage.
This prohibition does not apply to inverters that are intended to be connected to an installation through the main switchboard.
For more information see gazette notice Electricity Regulations (Prohibited Electrical Fittings – Inverters) Notice 2012.