Sheet metal production engineering company RH Freeman Ltd took a two-pronged approach to protect the health of its 40 workers. Their welders work with a range of different products that generate various harmful fumes, so ventilation needs to be suitable and adaptable.
As well as installing a bespoke extraction and ventilation system at their Wellington factory, they also looked to tackle any problems at source. When a new product generated a lot of smoke during welding, they found an alternative material which is riveted instead.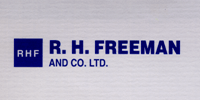 "We have a number of welding bays so we went for a built-in customised solution that allowed us to put an extractor into every bay and add more as needed," said General Manager Kevin Tennant. "It also needed to be simple, so people would use it.
"We always try to tackle an issue at source. So we focused on adapting a product to eliminate the problem. We changed the material from aluminium to galvanised steel, cutting out the welding process and fume hazard altogether."