A tree faller was injured when felling a wind-thrown tree.
Circumstances
The tree faller scarfed and back-cut the two spar trees and then felled the wind-thrown tree.
The spar trees did not fall in the direction the faller intended, causing the butt of the wind-thrown tree to fall sideways towards him. The tree faller sustained a fracture to his leg as a result of the accident.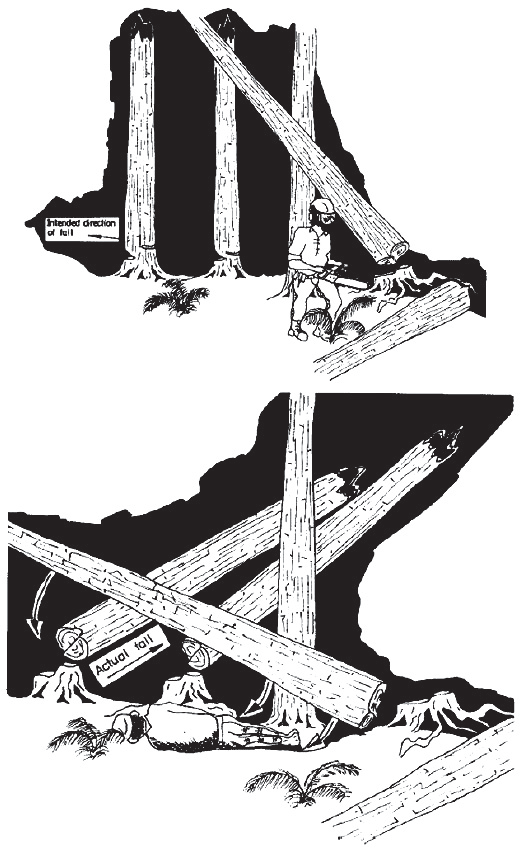 Investigation
The tree faller was positioned on the wrong side of the wind-thrown tree when making the final cut.
WorkSafe New Zealand advice

Rules as stated in the Fitec Best Practice Guidelines for Tree felling
The following are general guidelines for felling wind-thrown trees:
Work from the outside of the stand in the direction of the wind-thrown tree.
Approach each tree with caution.
Identify the tension and compression zones and side bind in the stem. These are not always obvious until you begin cutting.
Assess how the stem is going to move when tension is released – upwards and/or sideways.
Assess the direction and how far the root plate is going to move when released.
When deciding on the cutting sequence, always make a relief cut into the compression wood first. The depth to which this cut can be made before the bar begins to pinch indicates the amount of tension to be released.
When making the relief cut, stand on the safe side of the tree. All cuts must be made from the safest position.
Do not stand where there is danger of a root plate or stem springing back or any branches or slash moving towards you.

Published: October 2010. Updated August 2017.


While this bulletin has not been updated to reflect current work health and safety legislation (the Health and Safety at Work Act 2015 and regulations), it may still contain relevant information and practices to keep workers and others healthy and safe. Please read this guidance in conjunction with all relevant industry standards that apply to you as a PCBU. This guidance will be progressively reviewed and either updated, replaced with other guidance, or revoked.